Leadership Team
Meet the leadership team that helps continue the success that Party Center Software has achieved during the last 17 years.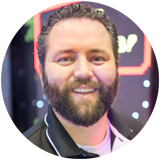 Scott Drummond, Founder and President
Scott has always been an adept entrepreneur and marketer. After purchasing an indoor children's entertainment center many years ago, he needed a software solution to help manage and automate the business. With limited options available, he started Party Center Software, which has become the number 1 online party booking software in the world. As an entrepreneur, Scott understands the pitfalls and difficulties of starting a new business. This insight has helped him deliver the right products and services to new business owners all over the world. Scott now charts the path for the company and aligns department goals in order to promote steady growth for the future.
Yosuke Carter, Director of Marketing and Customer Success
Yosuke is a growth hacker, content creator, and digital citizen in the relentless pursuit of mastering the art and science of modern marketing. Prior to joining Party Center Software, he led digital transformation efforts at multiple B2B organizations including the company that introduced text donations for nonprofits. Yosuke is responsible for implementing best practices across all marketing programs to make success scalable and repeatable. To keep up with topics he's geeking out about about these days, follow Yosuke on Twitter.