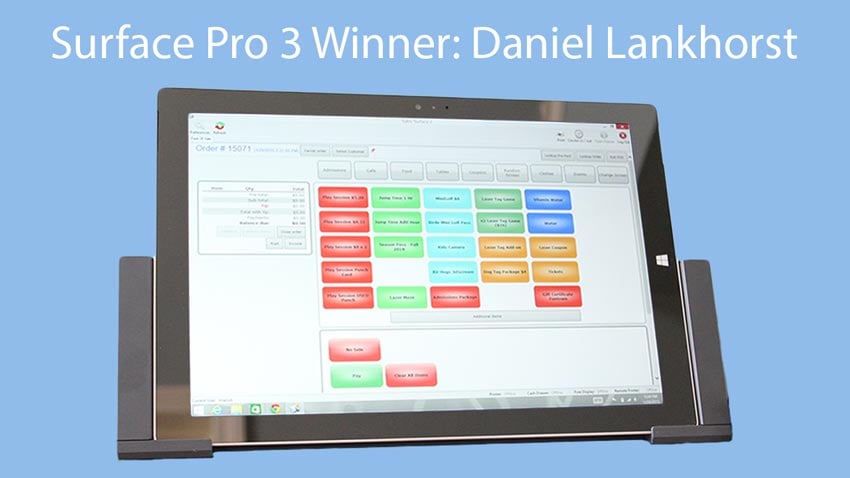 At the IAAPA Attractions Expo in November, we ran a contest to give away a Microsoft Surface Pro 3. We drew a winner at random from the hundreds of people who stopped by our booth, and the winner was Daniel Lankhorst, the General Manager of Fun Zone Amusement & Sports Park.
This contest was created in part because we announced tablet compatibility for our Point of Sale earlier this year. Moreover, we wanted to incentivize operators and thank them for stopping by the booth.
When Daniel was notified about winning the tablet, he was thrilled. "When we made the move to online booking last year we also used the POS," commented Daniel. "Party Center Software made it easy for us to leap into the modern age."
Scott Drummond, the President of Party Center Software, was happy to provide a free tablet, especially during this time of year. "It seemed appropriate that this contest fell around Thanksgiving," Scott added. "We are very thankful for all the operators who spend the time to chat with us at trade shows throughout the year."
This tablet was the perfect giveaway because it could be used for work (to manage the software, book parties, run transactions), or it could be used for play. Daniel is happy with the POS hardware he purchased when switching to Party Center Software, but might utilize the new tablet for parties. "We will continue to use our new POS stations for a majority of our business; I may let our party hosts borrow my Surface."