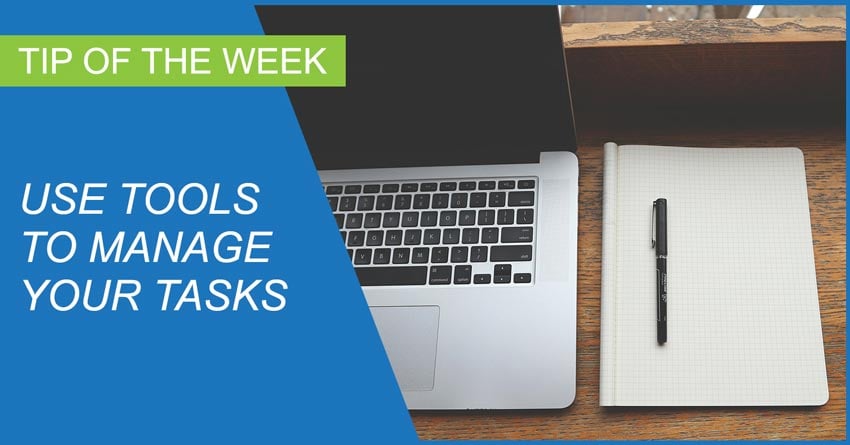 In the past couple weeks, we've published posts about how to manage your time to eliminate distractions and how to accomplish more by focusing on the big things. Even if you take both of these posts to heart and incorporate the principles into your daily life, you'll still have to manage and track your tasks for the rest of the little stuff. So for those pesky little tasks, we want to offer some ways to help you manage your to-do list.
Choose a Tool
First, find a to-do list tool that works for you. There are hundreds of tools and apps on the market, some better than others. Here are just a few examples of some of the most popular tools:
This list alone can seem daunting to some people, but it's only a small sample of what's available. If you search for "todo" in Apple's App Store, you'll get thousands of results. There are far too many to research, so let's simplify it a bit. When trying to choose a tool, ask yourself a few questions to see what features are important to you. Do you like a simple list that allows you to check off items you complete? Do you want to organize your tasks into categories? Do you want to track progress of what you need to do, what you've already started, and what you've completed? Do you want to share your to-do list with other people?
These kinds of questions can help you narrow down the choices. Remember, don't spend too much time trying to decide. If you're having trouble, just pick a popular app and run with it. You might find you love it. If not, you can always try something different in the future.
Connect The Tool
Connectivity to other software is important, and can help streamline your work process. Some tools provide built-in integrations to other software and apps. These integrations are usually easy to use, but they are limited in number. There are other ways to connect multiple apps to create an entire work ecosystem: Zapier and IFTTT.
These services utilize API integrations to connect apps and software together. IFTTT (which stands for If This, Then That) is built on "recipes". For example, you can use a recipe that will automatically create a new event on your Google Calendar when a new Trello card is added to a specific list. Zapier is similar, but can be more powerful as it connects to more than 500 apps (compared to IFTTT's 271 apps at the time of this writing). Keep in mind that a service like Zapier can be used for much more than your personal to-do list. You can create a larger marketing ecosystem, connecting your email service provider, online forms, social media, and so much more.
Find Ways to be Efficient
There are always ways to become more efficient with your task management: You could learn which tasks to delegate to others, find a better workflow, or even discover ways to complete tasks faster (especially recurring tasks). We understand the need to make work easier, which is why we've built several time-saving features into our software, including:
Digital Party Checklists
Vendor Reports
Online Party Booking
Online Digital Waivers
These are just a few of the many ways we try to make your life easier.
Conclusion
If you've ever tried to simply memorize your to-do list, you probably found that it doesn't work very well. It's never fun to be in the situation where you think to yourself, "Oh man, there's one more thing I need to do, and I can't remember what it is!" Writing things down using the old-school pen & paper or sticky note method is better than memorizing, but it's not very efficient. Software tools, like the ones we've listed here, help you manage your to-do list. They can give you timed reminders, sync lists across multiple devices, and make you more productive with your time.