In the last few posts, we've discussed the importance of using the latest technology to engage your online audience. You'll have to produce interesting content and cater to the ever-evolving demands of consumers if you want to earn their business; there's no way around that fact.
But you have to do more than just craft interesting blog posts and socialize with your guests on Facebook. You have to make sure they can easily find you online—and that they want to contact you once they find you.
That may seem obvious to everyone, but I saw a picture last week while browsing My Business profiles that suggests otherwise.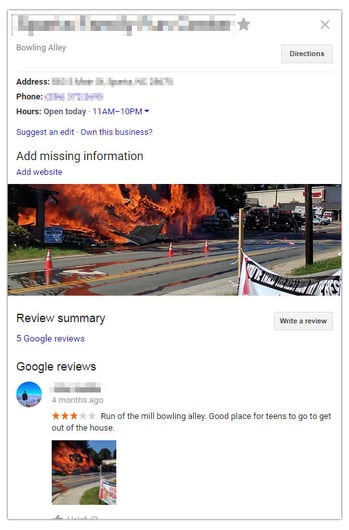 The great majority of consumers are turning to the internet to decide where they should spend their money, so being visible online and making a stellar first impression when people look you up are vital to your success.
That's why you need a detailed profile on Google's My Business. If you don't have a listing on My Business, consumers won't see that you exist and won't spend their money with you as a result.
So let's cover a few simple ways to drive more traffic through your front doors using this application.
Accurate Contact and Service Information
Let's start with the basics. Make sure your business's name, address and phone number are listed on your profile. But this is just the first step. Many local businesses, though they're still a minority, list their contact info online. In some instances, Google will return three pages worth of business listings, so you need to do something more to stand out among the crowd. Add as much information to your profile as possible. This includes details like business hours, menus, photos and positive reviews. The more, the better (more on this later).
Simply claiming your location and listing accurate contact and service information will help your facility show up in search results when consumers in your area Google "kids birthday party ideas" or "family fun center."
Encourage Honest Reviews and Social Check-ins from Your Guests
One of the ranking factors on Google is Review Signals, which includes the quantity, velocity, and diversity of your reviews. To give you an example, take a look at the search results on my iPhone for "bowling alleys near me":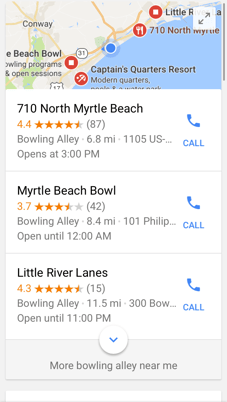 If you look closely, you can see that the second and third results are determined by all three review signals. Give it a try on your phone to see what you come up with.
Getting positive reviews on your My Business profile is relatively easy, and you can work it into your normal customer service efforts. For example, when your party host checks on a group while they're celebrating, he can ask the parents to leave a review of their experience at your facility.
If you're providing a good experience for your guests, they're likely to review your business and check in on their own, because they want their friends to know how much fun they're having. But there's nothing wrong with encouraging honest reviews from your guests as well.
Upload Attention-Grabbing Photos
We previously discussed the power of displaying quality photos on your website. This phenomenon applies to your business listings as well, so upload quality photos of your attractions, staff and other guests to capture people's attention when they look up your business on the internet.
Check out the photos from the 710 North Myrtle Beach profile.

They even have a 360° view image that gives you an inside look into their center.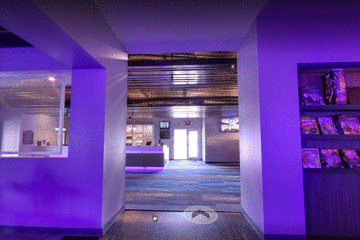 Blurry, poorly lit photos of your parking lot are unhelpful—as are photos of a burning building!
Choose Specific Categories
Categories help potential customers find the kinds of business they're looking for. Google has helpfully listed some guidelines, and the overarching principle to adhere to when choosing categories, Google says, is to "select categories that complete the statement: 'This business IS a" rather than "this business HAS a .'
The goal is to describe your business holistically rather than a list of all the services it offers, products it sells, or amenities it features."
To make this specific to our industry, make sure the categories you select reflect the primary attractions that you offer. If you're a bowling center that also serves food, "bowling alley" is a better category than "bar and grill."
Also be sure to incorporate words and phrases that describe your business on your website and social media channels, because Google can pull information from these sources as well.
Now Over to You
If you're a proprietor or GM of a bowling center today, you're probably thinking about ways to bring new customers through your doors. Google My Business and other online platforms can attract (or repel) today's empowered consumers, so use these tools effectively, make them work for you.
Try creating or optimizing your Google My Business profile and see what happens. I can assure you that your center won't catch fire if you do.