Congratulations! You finally got yourself a brand new website. It was a grueling time-intensive project that lasted three months, and you're pretty happy with the way it turned out. Now what?
If you're opening up your first location, you're going to start out with low traffic and low conversion rates. This means you aren't getting any eyeballs looking at your site and a meager percentage of those people are turning into leads or customers. Picture an empty bucket with holes all over it.
If your business has been around for a while but don't have a good online booking app, you're probably getting high website traffic but low conversion rates. You're pouring lots of water into a leaky bucket.
In other cases, you'll probably fall into one of these four quadrants: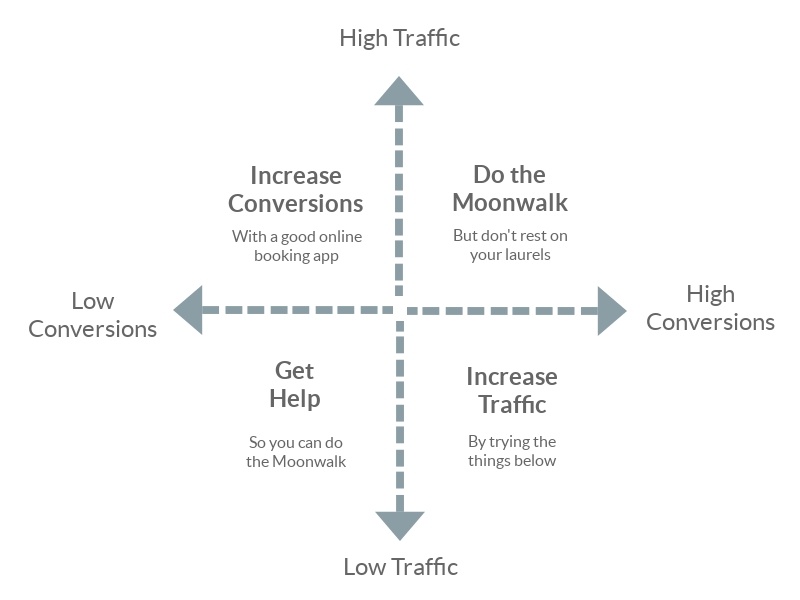 To increase sales, you need to optimize conversions and increase website traffic. You need to plug the holes in your bucket and pour water into it.
Let's get started with these six ways to increase website traffic:
Blogging
B2C companies that blogged 11+ times per month got more than 4X as many leads than those that blog only 4-5 times per month (HubSpot, 2015). With the massive opportunity for our industry to create content, I'm surprised that I don't see more businesses blogging. I know what you might be thinking, "It's a lot of work." You'll probably think about it differently once you see the amount of organic traffic it can generate to your site in the long-run.
To help you get started, we created a handy guide on How to Use Blogging to Book More Parties.
Referrals
Getting links from other sites can be an effective way to get traffic to your website. In addition to Local Citations from business directories, you can hustle to reach out to local companies/organizations to ask for links. You'll increase your chances if you have a contextualized web page or blog post. Here are other good ways to get links.
Email
We've all heard marketers say, "Email Marketing is dead." While mass email blasts may not be as capable as they used to be, people still check their emails throughout the day. The opportunity lies in data gathering and contextual intelligence to trigger personalized, relevant emails. For example, you may capture more information on a web form (e.g., zip code, first time visitor, favorite attractions, birthday, etc.) to gain access to a high-value promotional offer. By using the information correctly, you can send better emails that link to your web pages and blog posts.
Facebook posts
Posting fun pictures with your audience are beautiful and all, but if you want to show the ROI of your social media activities, you want to get them to your website every once in a while. Try sharing your blog post on how much exercise your kids need or a landing page with a web form to get an exclusive promotional offer your customers can't resist.
Facebook Ads
Many of you have already been experimenting with some social ads for promotional offers. You can also expand the use of paid social ads to book parties or attract new guest in your area. You can even get first-time visitors to your website to come back with retargeting through the use of Facebook Pixels.
LinkedIn Company Page and Groups
If you're looking to book corporate events, you and your sales team can share helpful blog posts on your company page and targeted LinkedIn Groups. As you can see, a quick search for your geographical area will show potential groups to join. While it may not yield a ton of traffic, at least it will be more targeted.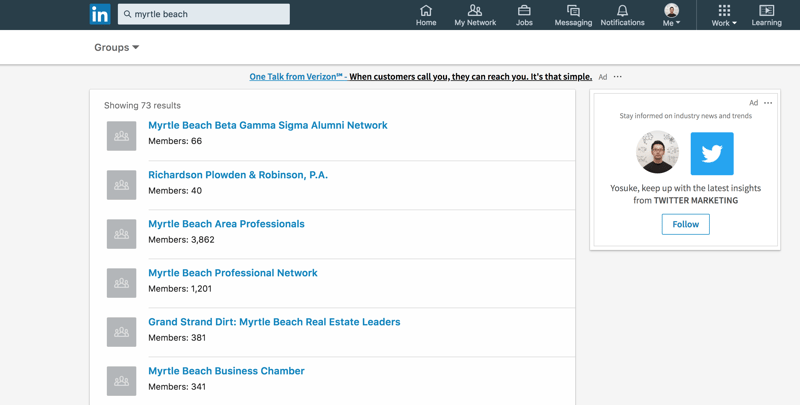 Onward and Upward!
Having an online booking app on your website doesn't do any good if you're not driving visitors to it. Your ability to increase the number of visitors will ensure that your bucket is always full.
As you look at your website analytics, I'm sure you'll find other effective ways to increase website traffic. You might also find tactics that improve results from one of the methods listed above. If you do, please share it with fellow members of our Facebook Group.