Why is McDonald's Red & Yellow? It's not an accident I'll tell you that much.
The intention of your website design is to create desire. McDonald's uses the red and yellow color scheme because those colors are proven to create hunger. Have you thought about whether or not your website invokes desire?
My point here is not to get you stuck on what colors you've chosen for your website and why. My intention is to bring some attention to the importance of your website aesthetic.
The prospect of building a new website or renovating an old one can feel like a daunting task. This is probably why a lot of Family Event Centers have allowed their websites to gather dust since they last refreshed it in the early 2000's.
We figured it would be a little easier to take on the website if you could look at some other delicious FEC sites that are cutting the mustard by our standards.
In this post you will find 7 of the best FEC websites these eyes have ever seen.
I've broken them down into two different categories to distinguish the group of sites that are shooting the moon from the sites that are simply playing it straight.
ALL THE BELLS AND WHISTLES: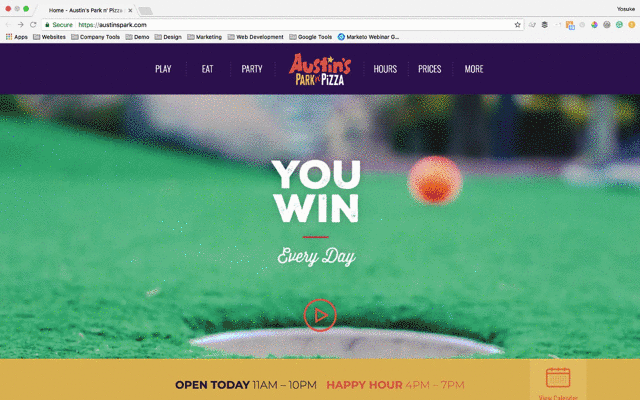 This website does an excellent job of creating a desire to have fun. It also somehow made bowling shoes (ordinarily a little unsavory) look classy and nostalgic. They showed kids and parents playing together which creates a desire for Family Fun. And they showed a very cold looking beer. And that made me thirsty.
Additionally the navigation of the site is super intuitive. Each of the tabs answers all the most relevant questions that prospective guests might have. The mobile version of the site looks just as good (if not better) than the desktop version. The biggest difference being that there is not a video being played on loop.
Special Note: Do not get caught up in the video element of these sites. You do not need a video. Good looking photos are just as effective (possibly more effective).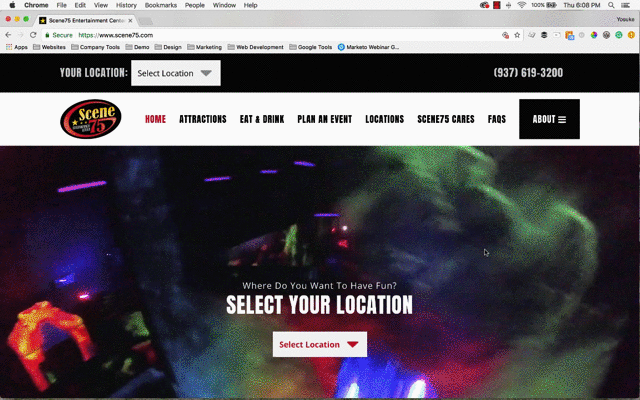 This site is similar to Austin's Park in its vastness and in the way it efficiently communicates the available attractions and how those attractions will make you feel.
Notice how the different color scheme creates a different feeling. It's darker. Which makes the facility feel a little more adult focused. Think about whether or not that's the kind of feeling you want your facility to create.

Click on the attractions page when you get to the site. Look at the way they associate each of their attractions with an image that tells the story of how that attraction will look and feel.
A strength of all the best websites is the clarity with which they explain what attractions are available at their facility.
They do an excellent job with their birthdays page as well. There is a clear description of each birthday party package and an obvious button that will take you to the online booking page. This kind of structure will make you money.
CRISP, CLEAN & EFFECTIVE: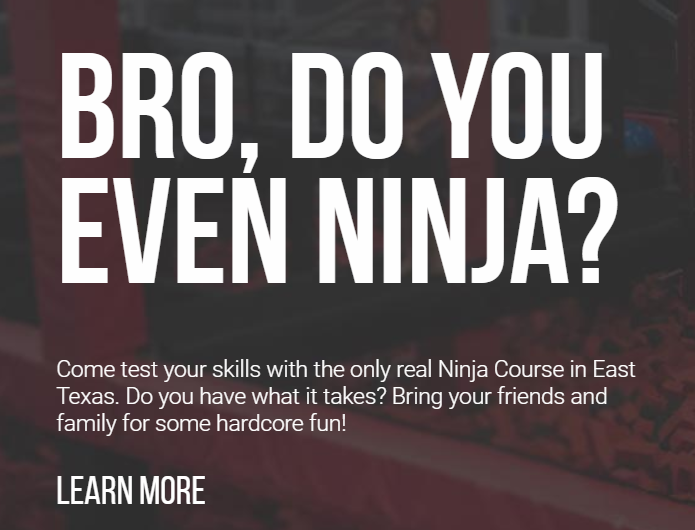 I like three specific things about this page:
The color scheme is super intentional. They are creating a distinct brand identity. The red is everywhere. It makes you feel like this facility really knows who they are. It feels professional. If your facility is putting kids in mildly precarious situations then you have to create trust by looking professional. The two go hand in hand.

The language is tailored to their audience. They know who they're trying to target so they've adopted the native language of 12-20 year old kids. This is a very savvy move.

Their Birthday Party page is clear, informative and easy to navigate.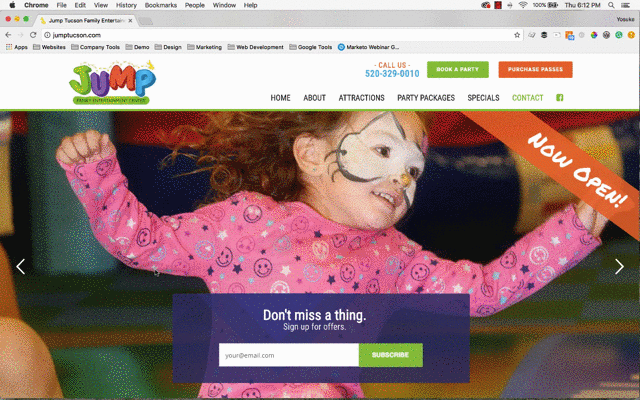 As you can see this is a much different looking website than any of the others because it's a much different facility with a different audience.
What I like about this site is that they aren't trying to do too much (aka it's clean). They have not jammed a ton of text onto their home page. The pictures do a nice job of showing what kind of activities the kids can do. Showing the parents interacting happily with their kids is a good way of addressing the hopes of parents.
The different attractions of the facility are also very clear. And the "Book Online" button is easy to find.
Bravo, Jump Tuscon!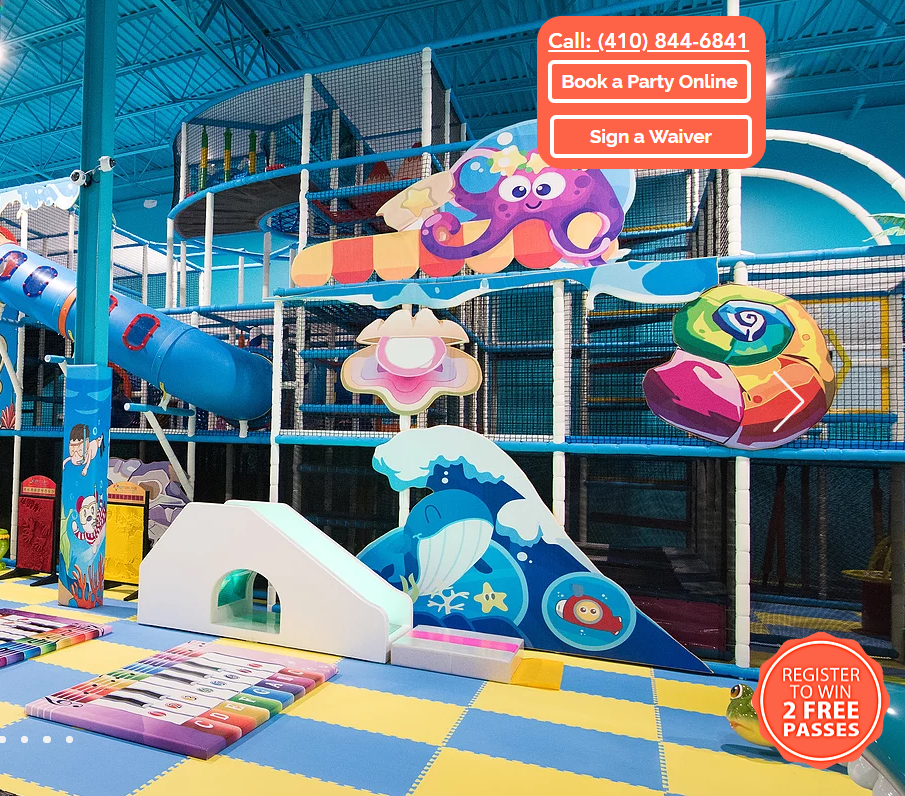 Look how clean this facility looks!
I feel like this facility is making a bet that mothers of young children care more about cleanliness & safety than they do about anything else. So that is what they're featuring here.
If you're targeting mothers of young kids ask yourself if your website is communicating cleanliness.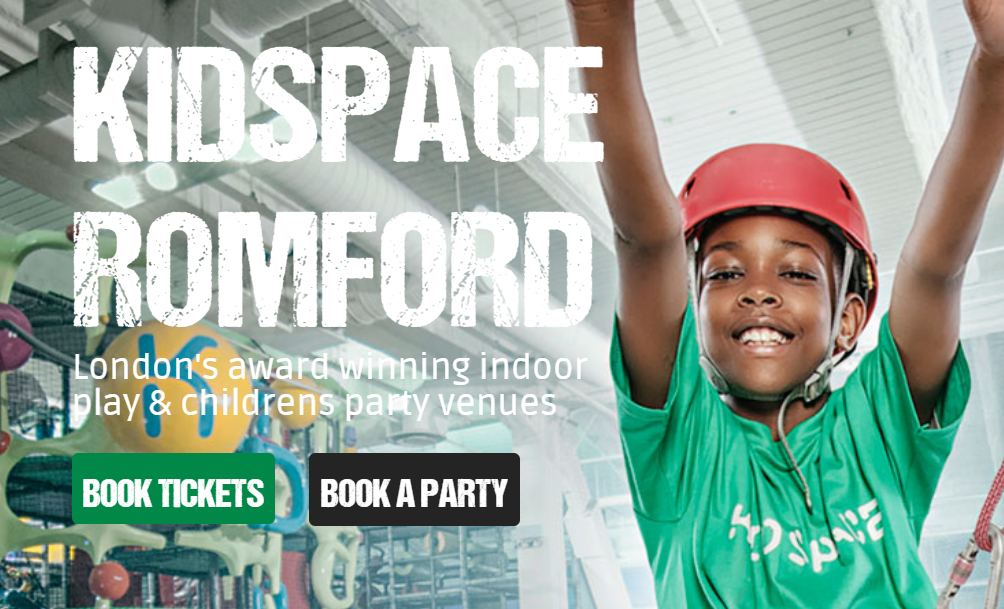 The featured image here is impressive. And a little intimidating. I don't want you to feel like you have to have a beautifully edited image or a video in order to have an effective website.
The strength of this site is two-fold: They use colors to create a distinct brand identity. This makes them appear professional and trustworthy. They also make everything very easy to read. The font is large and clear.
Do not underestimate the importance of making your font easy to read. Do not choose the cursive font for all your onsite text. You might as well write in hieroglyphics.
THESE WEBSITES ARE GREAT. BUT HOW DOES THIS HELP ME?
I thought you'd never ask.
These websites are meant to inspire you and to help guide you through the web design and development process. From these sites we learn that it's imperative to clearly show and explain what attractions are available at your facility. You can use color schemes to create a distinct brand identity. You can use images to show people how your facility is going to make them feel. Perhaps most importantly we learn the importance of using a large, clear font that's easy to read.
The goal of your website is to turn interested prospects into paying customers. In order to achieve that goal your site must translate all the joy and fun and caloric pleasure that your facility offers to people in real life.
Our hope is that these examples will help you turn your website into a productive sales & marketing asset.
If you have some questions or ideas that you'd like to bounce off of us then please don't hesitate to reach out. We're always happy to listen and offer our thoughts.