When you think about 'improving the customer experience' your thoughts most likely begin with your staff (you want them to SMILE more!) or your attractions (you need them to stay clean and work flawlessly).
What most people don't realize is that the customer experience begins with your website. That is the new front door of every facility. The look and feel of your website is the first impression that you'll never get a second chance to make.
The experience that a potential customer has with your website can determine whether or not they decide to book a party, or give you a call, or swing by for a visit with the kids. It's in your best interest to consider what your website visitors are trying to achieve on your website. And then to make those achievements very easy to reach.
What Does Your Audience Want From Your Website?
They Want To Know Who You Are

Which means you need to have a very simple statement about your facility up high on the homepage: "Cincinnati's Best Indoor Play Center for Kids." Remember, most people are viewing your site on a phone. Do not write a Russian novel's worth of text. Keep it short and sweet.

They Want To Know Where You Are & When You're Open

Which means you should include your address somewhere on the first page of the site and you should have a tab labeled "Contact Us" so that people can click on it to find your address and an image of where you're located on a map. You'll also need to list your hours of operation and contact information.

They Want To Know What You Offer

On the homepage of your site you should have a brief overview of the kind of attractions that you have. As well as the different kinds of experiences people can have at your facility. Maybe you have an Open Play, a Daycare, a Cafe, and a bunch of different Party Packages. Each of these various experiences needs to have its own tab and its own page on your website. But you first need to dangle them on the home page with a brief description to wet the palate.
Combine Your Customer's Intent With Your Company Goals
Now that your customer knows who you are, where you are and what you offer they are going to select the experience that is right for them.
This is where you marry the intent of the customers with the goals of your company. One of your business goals, no doubt, is to increase the party booking revenue. In order to do that you have to make your parties easy to find, easy on the eyeballs, and easy to book.
Above, we addressed making them easy to find (briefly describe them on the home page and build a page dedicated to parties.)


To make your parties easy to book it is important to add a clear and obvious "BOOK NOW" button to the description that you have applied to each of the parties that you offer. This particular "Book Now" button will be linked to the URL associated with that specific Party. That way, when a customer clicks on the button, they are taken to an online booking page in which the party they intend to book is preselected. You are not forcing them to scroll through your list of parties to try and remember what they want. It looks like this: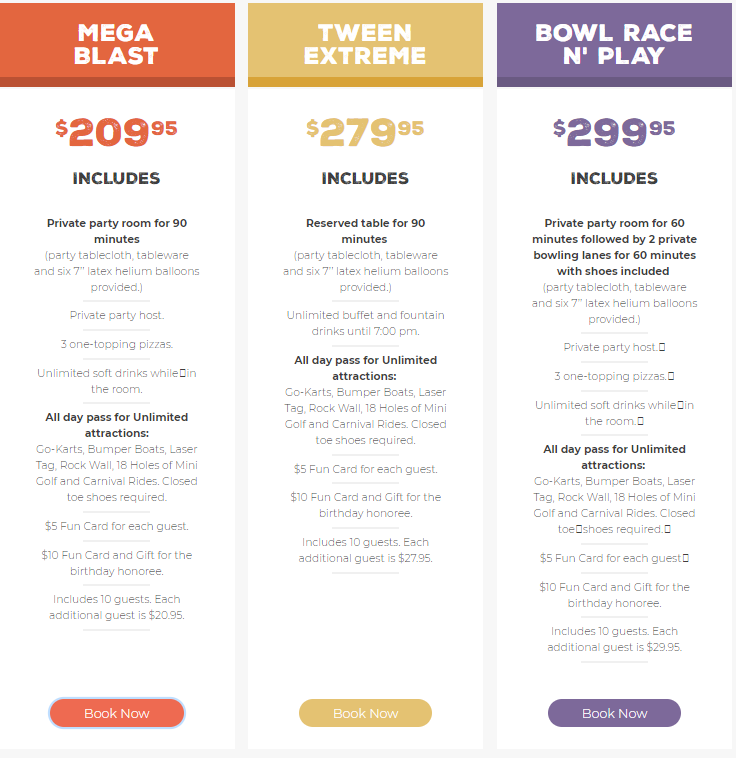 It's possible to set up each of these delightful little "Book Now" buttons so that they go directly to the online booking page designated for that party.
How To Add The Unique URL To Each Of Your Parties in PCS:
The truth is that very few facilities are utilizing this strategy. But we think it's important because it makes the customer experience a little smoother and it increases the conversion of website visitors into party bookers (i.e. more $).
Step One:
Sign into your software. Go to your Admin Screen. Look under the Product Management header and click on "Products."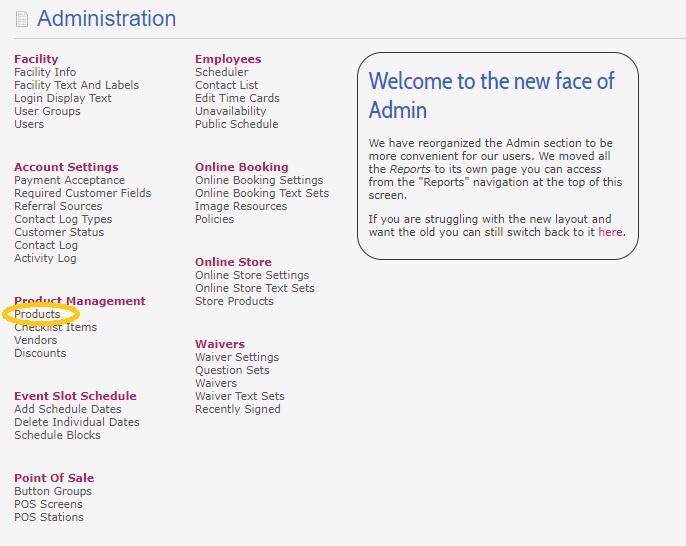 Step Two:
Scroll down to your parties and click on one of the parties that you have available online. There is a section called "Product Id." Right next to it you will see the "HTML Link" for your party. It will be in the red/pink font. Highlight that URL and copy it.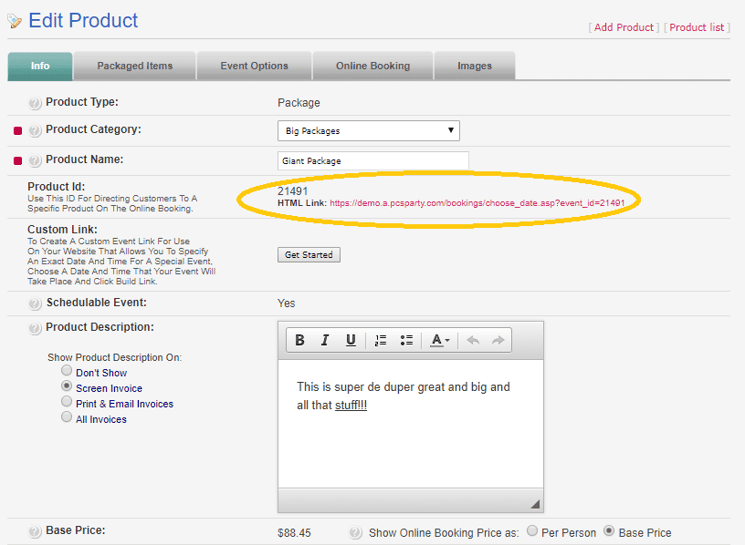 Step Three:
Sign into the backend of your website. Locate the page where you describe your parties. Add a button to the description for each party. Now paste the link from your software into the hyperlink for the corresponding button. Below is an article/video from Wix about how to link and add a button on their websites. No matter what platform your site is built on you will always be able to google how to add the button.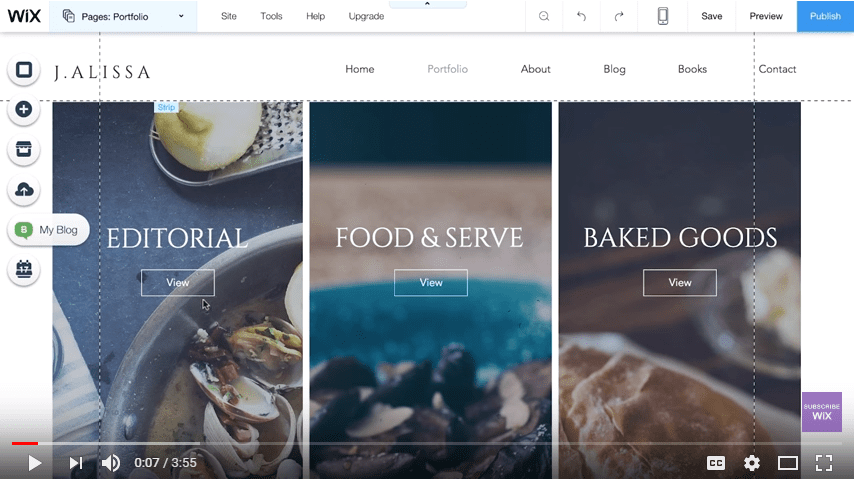 Ride Off Into The Sunset (How To Evaluate the Progress)
I don't know anybody who literally rides off into the sunset. What you'll actually want to do is evaluate whether or not the addition of the unique party booking links has made any impact on your customer experience.
You can ask the customers who booked online about what they thought of the experience. (It's always good to hear it straight from the horse's mouth)



Measure the percentage of website visitors who booked events online before and after you added the unique links.
In order to take that measurement you'll need to have Google Analytics set up on your site. Which is free and easy. If you need any help with that or if you need any clarity with this whole process please do not hesitate to reach out to your dedicated customer success manager. We would all be delighted to help.
If you feel like your existing website looks plenty dapper and you're wondering why you do not have more online booking revenue my first question will be about your website traffic. How much is there? And where does it come from? Just drop us a line in here and we'll follow up to give the revenue a diagnosis.