Welcome to Party Center Software's system status page. Here's you'll find data on current system performance. If there are any interruptions in service, you'll see the status here.
Current System Status:
11/08/2018 1:55pm PDT (UTC-7)
All systems normal.
Notice of possible connectivity issues:
We've received several messages today about slow connections and time-outs when accessing Party Center Software. The problem is related to certain internet service providers, not with our servers or our software. We are working to help resolve the issue but if you continue to experience slower than average internet speed you may need to contact your internet service provider.
These reports have largely come from Arizona and Oklahoma.
-------------------------------------------------------------------
PAST ISSUES:
April 10, 2018 12:03pm Pacific
Vantiv non-hosted payments is having issues. The PCS token server had issue creating and processing tokens for non-hosted payments. We are still investigating the issue and will put additional safegaurds in place to assure we don't have this issue again.
NOTE: Non-hosted accounts are old technology and they are on their way out. We, as well as everyone else, are depreciating all non-hosted payment options and moving to a hosted platform to reduce or eliminate a lot of the PCI compliance issues that you have with a non-hosted. There have been no, as we can tell, issues with Vantiv using hosted accounts. Those have been live and operational without any known outages over the past 6 months. Switching to a hosted account costs about $50-80 for the encrypted swiper and then a slight settings change on PCS. We recommend all people using non-hosted account move immediately to a hosted account using an encrypted swiper.
March 27th, 2018 @ 8:47am Pacific

There was an issue related to Vantiv gift processing this morning which is now resolved. If you experienced this issue, please reboot/restart Party Center Software. We'll continue monitoring this throughout the day.
March 21st, 2018 @ 8:58am Pacific
Some customers were experiencing the system logging them out. It looks to be related to some security cookie updates to a load balancer. The issue was completely fixed and systems were returned to normal by 9:25am Pacific time.
March 7, 2018 @ 10:14am Pacific
Vantiv is having issues
@10:14am Pacific Time - There seems to be some customers experiencing issues with Vantiv Non-hosted processing. We are reaching out to Vantiv to get an ETA on the resolution.
@10:25am Pacific - UPDATE: Our error reports on Vantiv have subsided. It looks like their issue was over at approximately 10:25am Pacific time.
From what we can tell approximately 200 transactions were affected by the Vantiv Outage.
March 3, 2018
Vantiv is having issues
@2:10pm Pacific Time - We have heard that many customers are returning to normal credit card activity. Vantiv is still working on correcting this issue. There continues to be known outages or slowness in certain areas especially north-eastern US.
@1:45pm Pacific Time- we were notified that some customers may be experiencing localized internet issue from providers such as Comcast. Here is the current outage map from Comcast.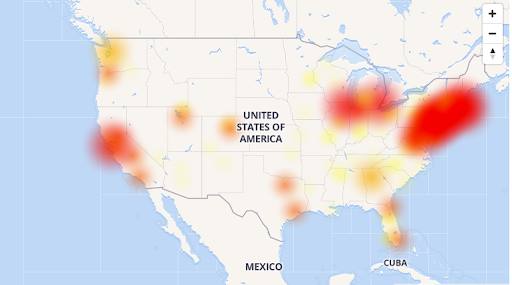 @1:28pm Pacific Time
Some Vantiv customers are experiencing issues processing credit cards due to an issue in Vantiv's systems. Vantiv is aware of this issue and we will be monitoring and will update as we know more. We are still reaching out to our development department leads at Vantiv to see if there is anything else we can do to assure this gets fixed asap. As of now it is an issue solely residing on Vantiv.
February 27, 2018 @ 10:45am PST
CUSTOM THEMEING ISSUE: (Press Control+F5 to refresh screen) All custom online booking themes seem to be reverting to the default theme.The dev team is looking into this and will have a resolution quickly. The online booking looks to be operating normally.
Check back for an update shortly.
February 8, 2018 5:03pm PST
We've been notified by Rackspace of an emergency window of downtime occurring tonight in order to address some critical security risks. The 1 hour maintenance window with scheduled downtime will occur tonight, Wednesday, February 8th at 11:30 PM Central Time until 12:30 AM Thursday, February 9th.

While the window is scheduled for 1 hour we do not expect the system to be offline for more than 5-10 minutes according to Rackspace. We know how important it is for you and your business to stay online.
We appreciate your patience and will have the maintenance window staffed and supported should you have questions during that time.