Wild Island Adventure Park Testimonial
by Danny Gruening, on May 1, 2014 8:42:49 AM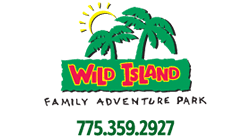 Wild Island Adventure Park
"Party Center Software has given our Birthday Parties and Private Cabana Rentals a great boost! Right off the bat we noticed a 14% increase in reservations and it has only gone up from there! We have experienced great feedback from our customers about the user friendly online reservation process and the convenience of being able to make their party reservation on their schedule. The easy-to-use system has streamlined the way we book our walk-in and over-the-phone customers as well. Not only can we provide our customers great customer service with this system but we can also experience great customer service if we ever need assistance from Party Center Software. We at Wild Island Family Adventure Park would highly recommend this to any party center looking for an alternative to your current reservation process."
"Thank you for extending the opportunity to share our comments!"
Sarah Date - Group Sales Manager
---
Wild Island Adventure Park
250 Wild Island Court
Spark, NV 89434
www.wildisland.com
Would you like to be the next success story? Book a Demo to see how our software can help you!