Summary
What really converts your website visitors into party bookings? You're about to find out.
In the first part of the Party Booking Webinar series, we're going to dive uncover some of the elements of high-performing FEC websites.
In this FREE webinar, you'll learn expert tips and tricks for:
Getting visitors to your party booking page.
Increasing conversion rates for your website.
Running experiments that optimize results.
HOSTED BY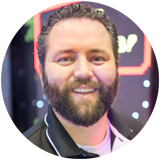 Scott Drummond
President/CEO
Party Center Software
Yosuke Carter
Director of Marketing and Customer Success
Party Center Software