Family Entertainment Center
PCS Customer Feature: Fun Slides Carpet Skatepark Pittsburgh
Fun Slides Carpet Skatepark is a unique family entertainment facility I had the pleasure of touring. Read on to learn more about this unique FEC.
---
When I found out that Fun Slides Carpet Skatepark, one of our customers, was located within 30 minutes of where I work - it was a no-brainer to go visit!
As a Customer Success Manager for Party Center Software, it's my job and honor to get to know our customers and their unique business. So, I hopped in my car and went to see the facility in person.
PCS Customer Feature: Fun Slides Carpet Skatepark Pittsburgh
Upon arriving, I was greeted by Jonathon Monhan, the operator, and Tim Swackhammer, the owner of the facility.
My first impression of the space was that it's huge! With over 30,000 square feet of glow-in-the-dark fun, one can only imagine how excited the younger patrons must be to skate there.
Located in Pittsburgh, PA, Fun Slides is truly a one-of-a-kind skatepark. They are the only carpet skatepark in existence and the skates are not your average roller skates, but a unique design created by the founders.
It's also important to mention that at Fun Slides Skatepark, you don't just skate. There's dodgeball, hockey, a nerf gun arena and super ninja challenge courses. Lots of excitement and lots to do for all ages.
From Concept to Skatepark: How Fun Slides Began & Where It Is Today
Don J. Edwards and his son, Don V. Edwards, created the concept behind Fun Slides in 2002. They based the skate design off of a device they had already created as carpet installers to help move furniture around easily. Once tested, the duo took this invention to the people and demonstrated Fun Slides at the Gravity Games in Cleveland, Ohio. From that day on, they knew they had to open a family entertainment center.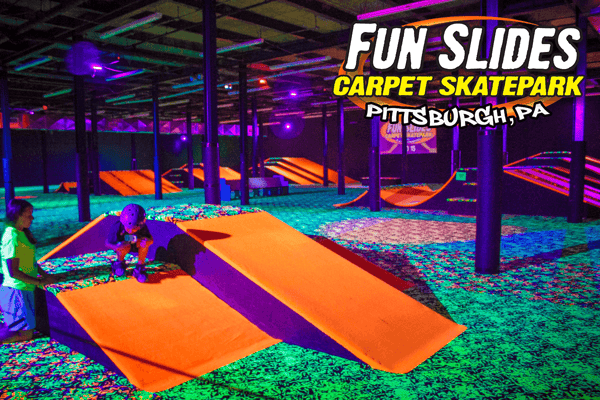 Fast forward to 2020, COVID-19 impacted the business and its previous owner decided to sell. The locals were distraught, posting comments on the FEC's Facebook page about the one-of-a-kind fun that it brought to the Pittsburgh area. People shared their memories, pictures, and more.
But a miracle did happen. A local and family-owned business stepped in to save Fun Slides Skatepark from closing its doors. The Swack Business group is a Pittsburgh-based business owned and operated by the Swackhammer family. Owners Jeff Sr., Jeff Jr., and Tim are all Pittsburgh natives who wanted to stop the local family entertainment facility from closing due to COVID.
In one interview, Tim said, "I want to make sure that my kids have a safe and fun place to play and have a birthday party just like I did as a kid."
The facility reopened under new management in October 2020.
Adapting to the "New Normal"
Fun Slides goes above and beyond to keep everyone safe and comfortable. Being a massive facility, social distancing is effortless. But they also offer private playgroups where you can reserve the entire facility for as little as $175.
Additionally, they instituted temperature checks for guests and staff, constantly clean and disinfect high-touch surfaces, conduct a daily broad spectrum disinfection of the facility and use an ozone air purifier overnight.
Tim mentioned that his favorite part of working with Party Center Software is the ease of being able to add new options and parties to the system. Now more than ever, he said, being able to alter their offerings quickly and efficiently has been a huge help.
Fun Slides Skatepark's Goals for 2021
Tim mentioned that their biggest goals for the new year are to keep the staff and guests of their facility safe and to get back to pre-pandemic levels by Q4 of 2021.
Thank you!
I'd like to extend a special thank you to Tim & Jonathan of Fun Slides Carpet Skatepark for the tour! Please follow them on Instagram, @funslidespbgh, or Facebook!
Upcoming Webinar
Join us for our upcoming webinar on Thursday, January 28th at 2 P.M. EST. Together with our friends at Creative Works, we will discuss the elements of Creating a Better Experience for Your Target Demographic. You won't want to miss this live event!
Let's Connect!
We want to connect with you on social media so we can serve you best. Follow us on Facebook, Instagram, Twitter, and LinkedIn, and we'll follow you back!