Summary
If you want to book more parties and groups online, you need to increase the number of visitors to your website. Not just any website visitor, the right ones.
In the second part of the Party Booking Webinar Series, we're going to show you ways you can attract your ideal customers to your website.
In this live webinar, you'll learn:
Which online channels your customers are using.
How to improve the effectiveness of each channel.
Strategies to get more targeted website traffic.
HOSTED BY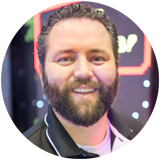 Scott Drummond
President/CEO
Party Center Software
Yosuke Carter
Director of Marketing and Customer Success
Party Center Software