RELEASE 7-7-2022 @ 4:30AM PDT - Invoice Header & Formatting, Bug Fixes
Party Center Software Release Notes 12.2
---
This release mainly contains minor bug fixes and improvements to the backend of the software, as well as formatting improvements for the 2.0 invoice.
We had several questions related to a change made to the party invoice header behavior in Facility Info > Preferences, so we are including an explanation in this release's notes.
Please reach out to our support team if you have questions or need assistance.
Party Invoice Header Text
We made a few updates to the way that headers are displayed on the party invoice in the last release. The text fields are found by navigating to Facility Info > Preferences > Party Invoice Header: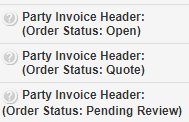 Previously, there was a discrepancy between the way that headers functioned and the way that they were supposed to function as described in the tooltip text (viewable by clicking the question mark icon next to each header section):



We have resolved this and updated the way that they are labelled so that the functionality makes more sense and matches the tooltip text.
Each facility has three fields for invoice header text. There is one for each of the following order statuses: Open, Quote, and Pending Review.
The header text that displays on a party invoice will change depending on the status of the party.
For example, invoices for parties in Pending Review will display the header text this field:




If you wish to provide customers with universal information that is application to all three party order statuses, it is suggested that you include it in all three invoice headers. The invoice will only ever display one at a time, depending on the order status.
Invoice Formatting Improvements
We have condensed the formatting of the 2.0 invoice so that it may more easily fit to one printed page. This will, of course, vary based on the information you add to the invoice and the party that is being booked, but you should find that it has been condensed significantly.
To enable the 2.0 invoice for your facility, navigate to Admin > Facility Info > Preferences and set Enable 2.0 Invoice to Yes.
Here are a few screenshots for comparison.
Printing the 2.0 Invoice with the Old Formatting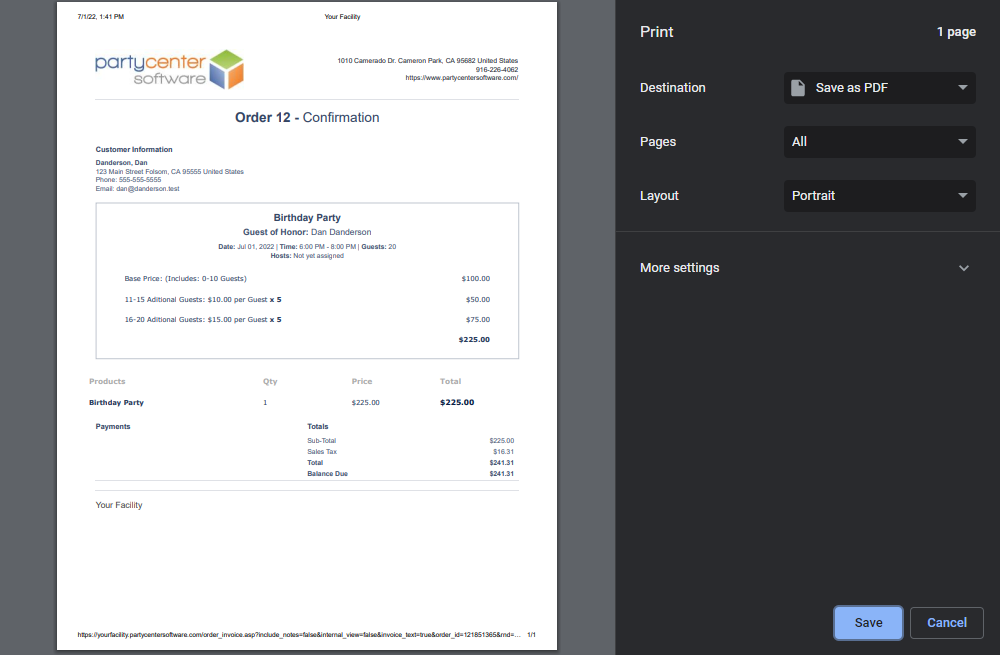 Printing the 2.0 Invoice with the New Formatting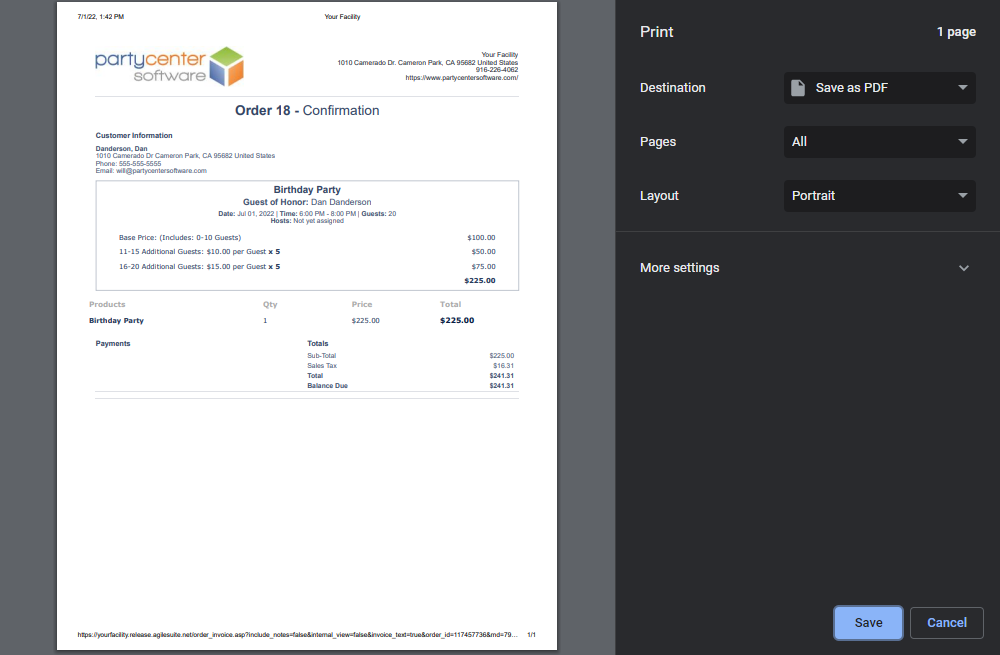 You will also find that we have moved the name of your facility from the bottom of the invoice to the top. It is now placed directly above your facility's address: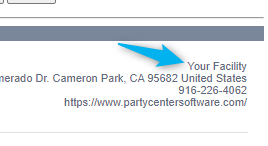 We were also informed that, despite the tooltip text, the invoice footer was displaying on invoices printed from the point of sale.
If you navigate to Facility Info > Preferences > Copy - Invoice Footer, you will observe that the footer text was only meant to display on party order invoices:


Thus, we have removed the invoice footer text from invoices printed for point of sale orders.