RELEASE 2-4-2020 @ 4:30AM PST - Print Formatting, Birthdate Selector
Party Center Software Release Notes 4.6
---
General Release Information
We have resolved several issues related primarily to the birthday date selector.
We have also fixed PCS Register print formatting and fixed several small bugs.
Major Fixes:
DEV-2674 - Printing from PCS Register causes the page to be incorrectly formatted
Several customers reported that printing a page from Party Center Software through PCS Register was causing the page to be incorrectly formatted. The page would print in a confined window on the piece of paper.
This has been resolved. Pages printed through PCS Register and an ordinary web browser now have the same formatting.
DEV-2681 - Customer creation through PCS Portal, OBM, and Online Store is allowed without a birthdate even when required
Our updated calendar for selecting a guest or dependent's birthdate was causing the birthday requirements set under Admin > Required Customer Fields to be ignored: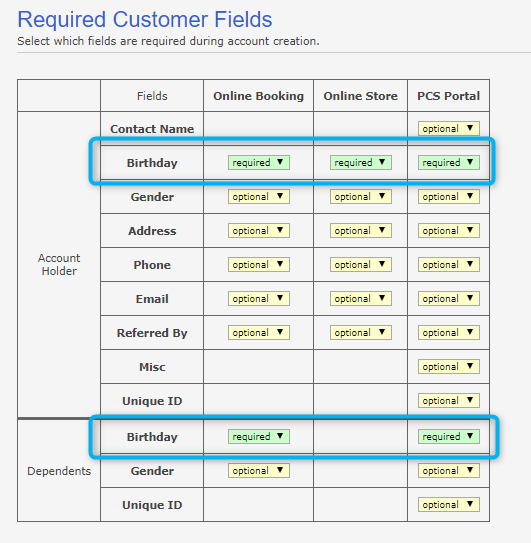 We have updated our original dropdown birthday selector and re-implemented it into all guest creation screens to resolve this issue:


DEV-2686 - Update Guests column on invoice to reflect the guest count if below the tier one threshold
We have updated one column on the invoice to make pricing more transparent to the guest. If the guest count of a party or party package is within the range included in the base price, the Guests section under Pricing Information will now display the number of guests attending the party.
For example, the following party charges $250 for up to 10 people. If the guest count is 8, the column will now reflect the guest count and not the maximum number of guests covered by the base price:


If the guest count surpasses the number covered by the base price, the invoice will display the number of guests covered by the base price, as well as the fees associated with the guests over that limit:


DEV-2687 - Remove 'Include Guest Fees in Price' from Party Packages
We have removed the Include Guest Fees in Party Price toggle from party packages. Utilizing this feature with a party package could cause a number of pricing issues related to the way the price is determined for a package.
This feature is still available for all regular parties.
DEV-2694 - Birthday datepicker for primary customers is ignoring the minimum age requirement
Users have the ability to set a minimum age requirement for their guests under Admin > Facility Info > Preferences:


When a guest creates an account online, they must meet the minimum age requirement indicated in this field.
Recently, we encountered an issue where guests that did not meet this age requirement were not being blocked from creating an account. This has been resolved, and guests that are below the specified age will not be able to create an account online.
Minor Fixes:
DEV-2718 - Order Information is displaying all pricing details, even when non-applicable
DEV-2717 - Party Packages and Parties with two guest counts, a plural guest label for GC1, and no plural label for GC2 display a blank where the GC2 default plural label (Adults) should appear
DEV-2722 - Abandoned Order Emails fail on sending when the list of emails isn't properly formatted with a comma delimiter