Online Party Booking
4 FEC Website Tips to Improve Guest Experience and Party Revenue
In this article, we share four website tips that'll help you improve your guest experience and increase party revenue.
---
If your goal is to improve the guest experience and party revenue, you probably want to start by focusing on re-training your staff or on improving your attractions.
What most FEC owners and operators don't realize is that the "guest experience" begins way before customers even walk into your facility.
It starts with your website.
4 Tips to Improve Guest Experience and Increase Party Revenue at Your FEC
The experience a potential customer has with your website can determine whether or not they decide to book a party with you, give you a call, or swing by for a walk-in visit with their kids.
Your goal is to make your website excite the visitor. You want to make people eager to visit your FEC! You also want to make your website easy to navigate, enabling visitors to check out pricing or book a party without having to waste time trying to figure out where to find certain information.
Here are 4 website tips that'll help you improve the guest experience and party revenue.
1. Build a Better Website
As mentioned above, you want your website to reflect the type of experience a guest can expect to have when they visit your facility.
If your facility has all the latest attractions and excels in customer service, but your website looks outdated or there's not a lot of information, your website visitors will assume that your facility is outdated too!
If you're not incredibly tech-savvy, using website-building platforms such as WIX.com or Square Space will help you design a beautiful and easy-to-navigate website.
The key to a great website is detailed information, great pictures, and some calls to action!
2. Include Details Your Customers Are Looking For
Make it easy for your visitors to access the information they're looking for on your website. Here are a few things to consider:

Include a short and simple statement that describes your facility somewhere near the top of your homepage. For example, "Cincinnati's Best Indoor Play Center for Kids."

Include your address somewhere on the first page
of your website. It's also a great idea to have a tab labeled "Contact Us" at the top so visitors can click on it to find your address, an image of where you're located on a map, and your contact information. Be sure to also list your hours of operation.

The homepage of your site should also have a brief overview of the kind of attractions you have and a sneak peek into the type of experiences people can expect to have at your facility.

Maybe you have an open play, a daycare, a café, and several different party packages. Each of these experiences needs to have its own tab or its own page on your website. However, we recommend that you also feature your offerings on your homepage with a brief description as a teaser, leaving your visitors wanting to find out more about your offerings.



If you don't already have an online booking option on your website, consider adding one. An online booking option increases revenue and allows your visitors to conveniently book a party wherever, whenever.
3. Make It Easy For Customer To Book
Now that your customer knows who you are, where you are, and what you offer, they're going to want to select the experience that is right for them.
This is where you marry the intent of the customers with the goals of your business. One of your goals, no doubt, is to increase your party booking revenue.
As mentioned above, making your parties easy to book online is a great way to boost revenue.
First, it's important to add a clear and obvious call-to-action below each of your party packages. A "BOOK NOW" button at the top of your home page or next to each package is critical.
Each "Book Now" button should be linked to the URL associated with that specific party. That way, when a customer clicks, they're taken to an online booking page where the party they want to book is pre-selected.
Don't force potential guests to scroll through your list of parties and remember what they want. Here's an example of a web page describing a company's party packages while delivering a great user experience: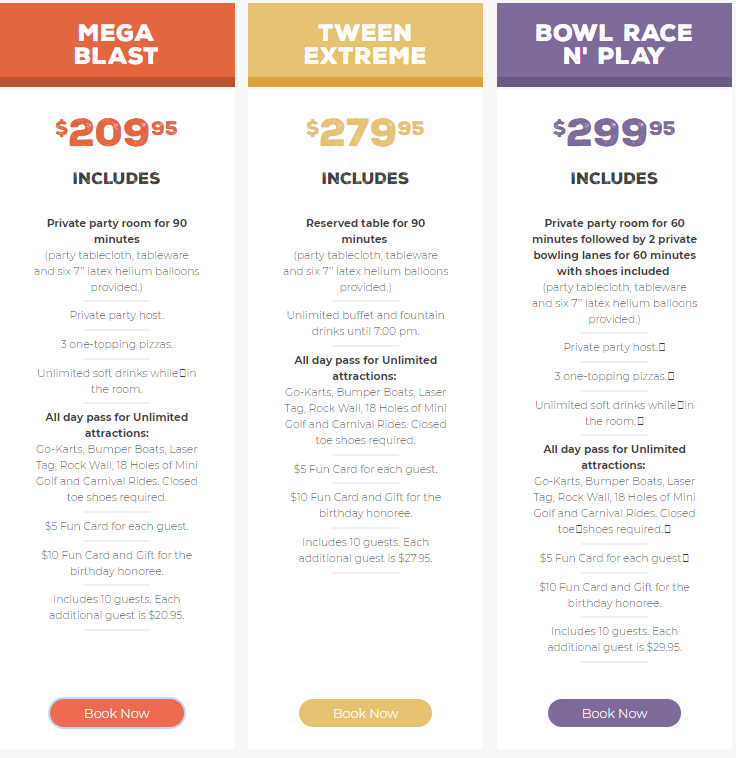 And don't forget, your website is the first impression of your FEC.
If your website delivers a great online booking process, your customers are going to expect the same guest experience when they come to your facility for the event.
4. Survey, Evaluate, and Pivot
Every so often, you should evaluate the impact of your website on your revenue. To do this, consider the following:
Survey customers who booked online on what they thought of the experience. What did they love about the process? How do they think you should improve?


Run reports in your facility management software to view your total party revenue from whenever you implemented changes to your website or online booking module. Log into your Google Analytics and check your goals as well. How much of a value-add were your changes? How can you improve?
Leave a Comment, We'd Love to Hear Your Thoughts!
What did you think about the website tips post? Let us know in the comments below!
NEW RESOURCE
Effectively marketing your FEC or event venue doesn't have to feel like rocket science.
In this eBook, you'll discover:
How to build a better website that'll grow your business.
How to create digital content that'll attract your target customers.
How to motivate customer engagement through experiential marketing.
How to track marketing data for growth.
If you'd like to learn more, click on the image below to download a copy of this complimentary guide!
Let's Connect!
We want to connect with you on social media so we can serve you best. Follow us on Facebook, Instagram, Twitter, and LinkedIn, and we'll follow you back!